How To Disinfect An Office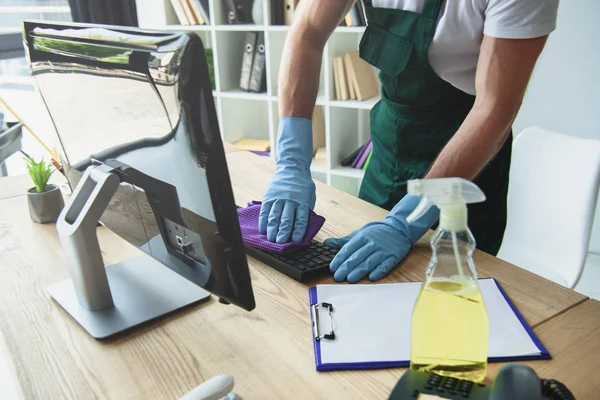 If we've learned anything at all from the COVID19 Pandemic, it's the major need to implement better practices when it comes to disinfecting.  Most of us spend more time at work than we do in our own homes.  Making it a major priority that we disinfect our workplaces properly and as frequently as possible. 
What
Disinfect every surface in Kitchens and Bathrooms. Disinfect All High Touch Surfaces: Door Knobs, Handles, Chairs, Other Furniture, Employee's Desks, Keyboards, Telephones/Headsets, Computer Mouse, etc.
How
Use disinfecting wipes and/or disinfecting sprays with clean cloths or paper towels.  Remember to read the directions on the back of every product to effectively kill germs.  Most disinfecting sprays require at least 60 seconds or more on a surface before being wiped off to properly disinfect it. 
Why
Germs spread illness, like awful strains of the flu that can cause death! Remember your main goal is to find the prime breeding grounds for germs, their transfer sources, and disinfect those properly and frequently. 
Where
Often over looked places include but are not limited to: refrigerator handles, sink knobs, drawer handles, microwave buttons, door frames, elevator buttons, staplers, tape dispensers, printers, pencils and pens, refreshment places, coffee makers, fidget toys/stress balls, "That was easy" buttons, etc.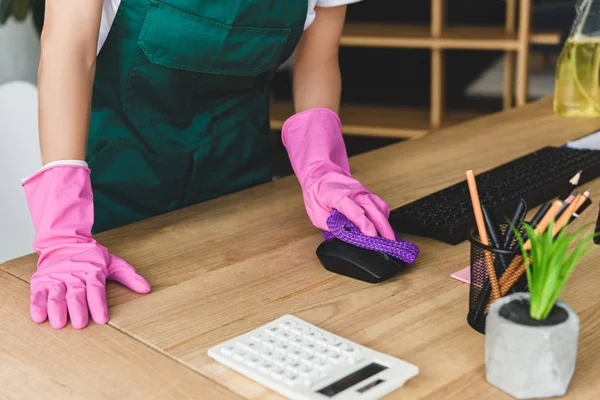 Tool Box
Your tool box should include cloths, paper towels, disinfecting wipes, disinfecting sprays, etc.
*Tip: Disinfecting is different than cleaning.  Cleaning requires more tools than disinfecting.  We recommend cleaning first, getting rid of any spilled drinks/food, dust, etc.  Disinfect once everything is cleaned, it will be easier to identify the areas that need disinfecting. 
Air Purifier
Germs can spread six feet once in the air.  If you don't have an air purification system, seriously consider investing in one.  In the mean time, use disinfecting spray and adopt the best practices suggested. 
Best Practices
Wash your hands often, sneeze or cough into a tissue, disinfect high touch surfaces often. Adopt a clean up after yourself policy. A policy where employees must disinfect an area after they use it. Sounds time consuming its really not, have disinfecting wipes handy, ask employees to use them regularly on high touch surfaces. 
*Tip: Find a disinfecting spray for multiple surfaces including fabrics.  Spray any fabrics on chairs, sofas, carpets, curtains, etc. Make sure to follow the specific instructions on the back of the bottle for effective use.
We can do this! This Pandemic requires a new way of life. Learn what to do, practice doing it.  It will become second nature before we know it!